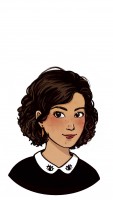 FR
Bonjour ! Je m'appelle Loïse Masson, j'ai 24 ans et suis diplômée en illustration et en bande-dessinée de l'École Pivaut (Nantes). Je suis graphiste-illustratrice et dessinatrice de bande-dessinée.
Je suis disponible pour réaliser des commandes (peintures, portraits, planches de BD...).
N'hésitez pas à me contacter : contact@loisemasson.fr .
Shop : https://society6.com/loisemasson
EN
Hi ! My name is Loïse Masson, I'm 24 and I have graduated from comics and illustration school (Ecole Pivaut) and I work as a illustrator and comic artist.
I'm available for work and projects, so don't hesitate to contact me! contact@loisemasson.fr .
Shop : https://society6.com/loisemasson